BUILDING OR BUYING A HOME
Helpful information when connecting to the LRSD
Typical Service Connection Profile: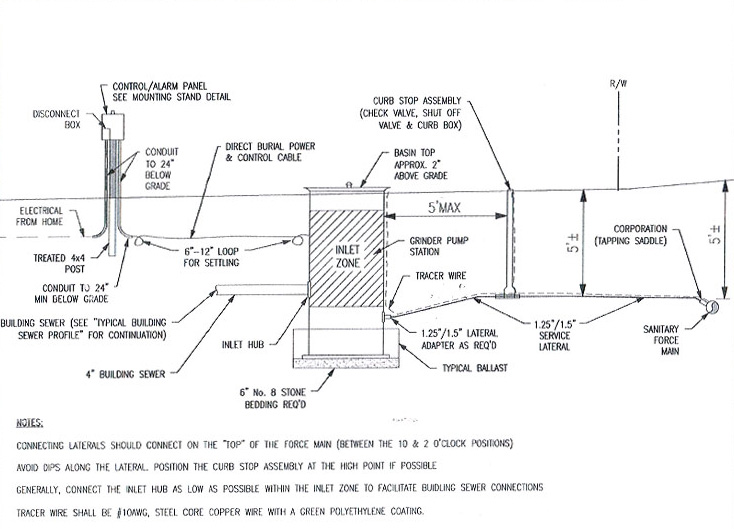 Below are a few things you will need to know about connecting your new home or rebuild home to the Lakeland Regional Sewer District's sewer works.
The sewer district collection system is a low-pressure system.
The district low-pressure system is a series of connected grinder station that moves the sewage to main lift stations under low pressure then sends it to the wastewater plant for treatment.
To make your connection to the district sewer works the sewer building standards must be followed for all connections.

First connection type is your Building Sanitary Drain – This is a gravity pipe line that comes from the house plumping and connects to your Grinder Station.
Second connection type is your Low-Pressure Sewer Lateral – It connects the grinder station to the low-pressure tapping valve.
Third connection is the Low-Pressure Tapping Valve – it connects to the district's low-pressure main line.

For more information on Connection Requirements, Technical Specifications, Inspection / Acceptance & Drawing Detail. Please review the LRSD New Construction Development Standards Manual.

You can also pick up a copy at the administration office 7:30am to 3:30pm M-F, located at 5002 E 100 N Warsaw IN. 46582.